Stainless Steel Conveyor Belts

Shuke Metal Conveyor Belt Manufacturing, Inc. is a professional manufacture of metal conveyor belt, stainless steel conveyor belt, conveyor mesh belt, metal conveyor mesh belt, wire mesh conveyor belt, wire mesh belt, mesh belt, energy saving conveyor mesh belt, weave mesh belt, conveyor chain, sprocket, instant noodle box, etc.
Details of metal conveyor belt :
Material of metal conveyor belt:
conveyor mesh belt is made of various kinds of high quality stainless steel, low carbon steel, alloy steel for use, and it is rationally designed to advanced technology.
Application of metal conveyor belt:
conveyor mesh belt is extensively applied for conveying parts of metallurgy, food processing, pharmacy, glass print, special equipments.
Characteristics of metal conveyor belt:
conveyor mesh belt has the performace of high strength, heat & erode- resistant and also the capability of flexible and enduring.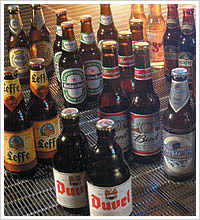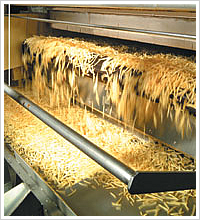 Belt structure:
1. Eyelink to eyelink (type DO)
2. Modular structure with one or more welded underwires(type DP(L) and DL)
3. With flattened eyes for small opening (type DP)



Side finishing
1. With a welded side (LK)
2. Fitted with chain (KH) to be driven by gear wheels at the sides.
3. With side guide (ZG) for absolutely straight run.
4. Or with plastic blocks (KB) for virtually seamless connection to the machine frame.




Sizes:
1. Pitch (15.9 to 76.2 mm)
2. Wire diameters (1.6 to 3.2 mm)
3. Cross pitch (measured centre-to-centre of eyelinks 2.8 to 50 mm)
4. Number of underwires (0 to 8)
Stainless Steel Conveyor Belts are available in various materials, including AISI 304stainless steel and bright steel.
Drive
Belts depend on the right driving and turning wheels to operate well and without interruption, which is why our company develops and produces the required sprockets and rollers. Sprockets are equipped with special teeth configured for the belt structure, and tube, disc or strip rollers are available to drive the entire width of the belt.



Options
For specific applications, an eyelink belt can be fitted with options, such as edge plates (1) for thicker layers of unsorted products, or flights (2) for ascending and descending belts.


Stainless Steel Wire Mesh Conveyor Belts Popular Design Types:

1. Stainless Wire belt, ¼" round rods, 7-1/2" wide, .700" approx centers on the rods. Cold rolled round material, approx 10ft
2. Flat wire conveyor belt INOX STAINLESS STEEL AISI 316, ½"-1/2" with drive tension 343kg B=405-430mm L=35m
3. Flat wire conveyor belt INOX STAINLESS STEEL AISI 316 ½"-1" with drive tension 369kg B=405-430mm L=35m
4. Steel conveyor belt for airport, to replace the rubber convey belt
5. Stainless steel conveyor belt about 43 inch long and 8 inch wide.
6. Wire mesh conveyor belt with frames and 2 x Variable Speed motors
7. Metallic conveyor belt. Type: RI-3; 16 X 16 SWG, AISI S.S. 304. Size 1Mt wide X 20Mtr Long (approx).
8. Double Balance Wire Mesh Belt Made of 304 Stainless Steel
Wire gauge spiral = 0.1875 inch
Wire gauge rod = 0.5625 inch
# Spirals per feet = 18
Total Width= 90 inch
Total Length= 180 ft
Distance between rods = 3.000 inch
This wire mesh conveyor is used in a Tempering Furnace that operates at
1000°F.
9. Stainless Steel Fine mesh conveyor belting with a hole opening of 1/8".
10. 36" wide ss wire mesh conveyor belt. 20 foot long. ½" x 1" openings
11. Wire Loop Belt Conveyor: 1 mm wire with the smallest available loops, e.g. 6 mm x 30 mm. - 1600 mm wide.
12. Mesh belt conveyor for continuous tempering furnace:
Belt Width: 684mm
Thickness of belt 14-16mm
load carrying capacity 75-80 Kg per Sq.meter.
pitch of woven wire: 8mm
Thickness of wire is 3.25mm ( 10 gauge)
Length 30480mm
This woven wire mesh belt has to withstand temperature 870 degrees
13. Stainless steel conveyor belt to replace the existing belt on custom made machinery in production process.
The details are as follows:
Conveyor Belt Length - 22 metres
Belt Width - 500mm
Wire Thickness - 0.6mm
Grade - 1200SA
V ropes 2 v ropes (EUR standard – cc distance 300mm approx)
Drive pulley diameter - 500mm
14. Stainless steel wire belt 14" wide x 5 feet long wire dia .063
15 Stainless Steel Flat Wire Belt 12" Wide x 10' Long
16. Round Wire Mesh belting with Spirals ( Note: please include alloy surcharge if required)
Width: 39 inches -Mesh Overall Width
Belt Conveyor Length: 80 Feet
Mesh Specs: BEF -40-10-8-10
Mesh Area: 260 SQFT (5.95)
Cross Wire: Wire, 0.162" Dia , 314SS , Soft Weaving (approx. Qty. 800 Pcs.)
Spirals : 135 Dia 314 ss , Weaving ( Appox. Qty. 800 Pcs)
Mesh Edge: Knuckle & Weld
17.
Welded selvage flat wire belt
Specifications;
SS or galvanized low carbon steel
longitudinal pitch 1"
opening width 3/4"
lateral pitch 1 3/8"
belt width at 1 feet 17 openings
belt length at 1 feet 11 openings
29-3/4" overall width
We also provide photos reference for the conveyor belts we supply, please click to learn more.